| | |
| --- | --- |
| Name : | Black lip pearl oyster or pearl oyster |
| Scientific name : | Pinctada margaritifera ( var. c umingii ) |
| Size : | This oyster grows to a size of 12-15 cm after 3 years of culture. |
History: from the pioneers to present…
Pearl oysters occur throughout the Indo-Pacific region. They were first fished for almost two centuries for the mother-of-pearl industry, and fine pearls were very occasionally found.
To overcome the decimation of wild populations, spat collection tests were undertaken at the beginning of the 20th century, but the technique was only developed in the late 1950s. There was a renewal of interest in pearls in the 1960s and the first grafts were carried out by the French Fisheries Service, and the first grafted pearls were harvested in 1965. In the 1970s, through private initiatives, this oyster began being cultured for pearl production and a market was developed for Polynesian black pearls. The first substantial pearl harvest took place in 1978 (30 000 pearls) and this activity began developing after 1985
Culture techniques and production cycle
Hatchery rearing of spat is not yet fully controlled.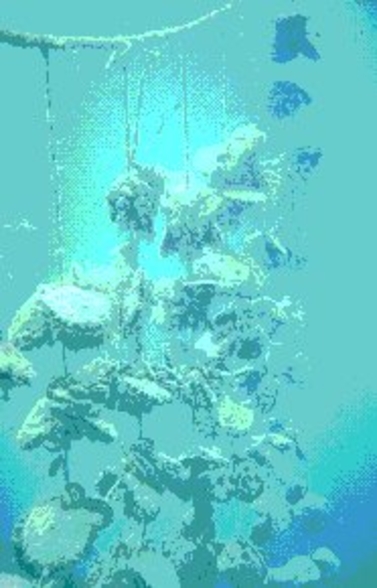 Spat for culturing is collected in the natural environment by setting on artificial substrates. After 12-24 months without any intervention, the oysters grow to 5-10 cm and are then set on oyster-rearing chains suspended from subsurface longlines at 6 to 10 m depth. 4 000 to 10 000 oysters are set on each of these 200 m oyster-rearing chains, which are spaced 10 m apart.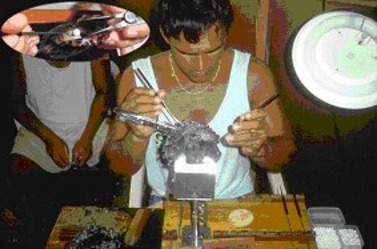 After 3-12 months, the oysters reach a size of around 10 cm and weigh about 120 g, and at this stage they are ready to be grafted.
After grafting, the oysters are again set on longlines until the pearl grows, i.e. around 18 months. The regulations stipulate a maximum density of 2 400 oysters per 200 m oyster-rearing chain.
Only 25-30% of these oysters form a marketable pearl (rejection, mortality, poor quality pearl formed).
Production patterns
In 2001, Polynesia was the second-ranking world exporter of unworked cultured pearls (21.5% of the demand) and black Polynesian pearls were mainly marketed in Hong Kong (42.8% in value) and Japan (40.8%), followed by USA (6.9%) and France (3.2%).
Product value enhancement
Pearl quality is controlled by the French Territorial Services (minimum thickness of 0.8 mm of mother-of-pearl around the nucleus, roundness and defects). The pearl producing and trading professions are also becoming standardized.
Pearl culture figures
1 100

pearl oyster farms,
including a few very large companies that produce 75% of marketed pearls, along with many small family-based farms

36

atolls where pearl oyster culture is practiced

5 000

Polynesians involved in the pearl oyster culture sector

2

kg of pearls produced 30 years ago

11,3

tons of pearls produced in 2000

20

billion CFP francs (167.6 million €) sales figures for pearl oyster culture

43

percent drop in the last 3 years in the per-gram value of export pearls.
The French Polynesian Territory is currently taking substantial steps to restore a sound market and enhance pearl value.
Strengths / Weaknesses
Strengths

Weaknesses

Possibility of abundant collection around several islands where natural deep-water populations account for most of the reproduction
Simple culture techniques
Pearl oysters are well adapted to lagoon environments with low phytoplankton levels
High added value end product
Not presently affected by diseases
Currently no risk of trophic overloading of lagoons

Spat only obtained in the natural environment around a few atolls
High fish predation
Proliferation of invasive species (biofouling organisms)
Fragility of lagoons with respect to human activities
Longline culture on most farms carried out by scuba divers
80% of the market dependent on two procuring countries
Insufficient pearl quality control