Name :

Mussels 

Scientific name :

Mytilus edulis,   

Mytilus galloprovincialis,   

Hybrides M. edulis / M. galloprovincialis  

Size :

M. edulis can reach 10 cm and M. galloprovincialis 15 cm.
The marcket size is 4 cm
The common or European mussel (M. edulis) is found along the Channel and Atlantic coasts (orange area on the map).
The Mediterranean mussel (M. galloprovincialis) occurs as far north as northern Brittany (St Brieuc Bay)
(blue area on the map).
History: from the pioneers to present…
According to legend, a shipwrecked Irishman named Patrice Walton, who had taken refuge in Aiguillon Bay, was the first person to rear mussels. He apparently set up nets between posts to catch birds. Mussels attached themselves to the posts and began growing. The bouchot mussel rearing technique was thus founded. Mussel culture, which was long limited to this region, then developed in southern France, in the canals around Sète, and in the lagoons during the 19th century, as well as in Brittany and Normandy.
Culture techniques and production cycle :
Culture techniques and production cycle: spat is gathered only in the natural environment, by setting, generally on coconut rope, along the Atlantic and Mediterranean coasts.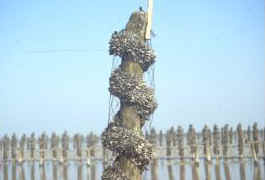 The spat (around 1 cm) is dispatched to different mussel production areas. These juveniles are kept in a net and will set on different substrates, including cables (longlines) and wooden posts (bouchots).
The period from the beginning of mussel culture until marketing lasts 9-15 months, depending on the production area, culture technique and species.
Various  culture techniques are implemented :
On the ground
Flat, in the intertidal zone or offshore - technique not commonly used in France (using small fished or imported mussels), but this approach is very common in the Netherlands and Germany
On bouchots in Normandy, Brittany and Poitou-Charentes
In the water, on suspended ropes
Under racks in Mediterranean lagoon
Under racks in Mediterranean lagoon On longlines adapted to the conditions prevailing in the production areas

Surface longlines in Brittany
Partially submerged longlines in Poitou-Charentes
Submerged longlines in the Mediterranean
Technological advances in mussel culture include the use of hydraulic machinery (installing posts, harvesting, etc.) and other special machines (mussel culture barges for longline culture and amphibian vehicles for bouchots). A mechanical declumper is used to separate the mussels from one another. Byssus removal is performed to prepare mussels for immediate consumption.
Regional distribution of mussel yields in France (%)
Brittany and Basse-Normandy are the main mussel producing regions (Agreste 2001). External trade include also Chili and New Zealand imports (OFIMER / French customs)
Product value enhancement
Mussel farmers are also promoting an AOC quality label for bouchot mussels and Mont-Saint-Michel mussels.
Mussel figures
For the most recent statistics, see the valuation on the website of CNC 
(Source : Agreste – Shellfish culture survey - 2001 - OFIMER / French customs)
| | |
| --- | --- |
| 73 000 | tons of mussels produced yearly in France |
| 1 530 | km of bouchots. Plus 110 km of offshore longlines . This represents the equivalent of 4 200 ha used for mussel culture in 2001 |
| 1 400 | companies culturing mussels in France |
| 7 | percent of direct sales |
| 50 | percent of the production is sold to fishmongers |
| ~ 25 | percent of the production sold to wholesalers and supermarket purchasing cooperatives |
| 53 000 | tons of mussels imported from other European producing countries: Netherlands, Italy, Spain (source FAO) |
| 4 400 | tons of French mussels exported, so the French market is substantially in deficit. |
Strengths / Weaknesses
Strengths

Weaknesses

In mussel production, France ranks 3th in Europe, after Spain (250 000 t), the Netherlands (100 000 t) and Italy (50 000 t)
There is a strong collective incentive to expand this aquaculture sector to meet the high market demand
Efficient water quality monitoring networks that ensure the health quality of marketed mussels

High European competition
Production very dependent on uncontrolled meteorological and environmental conditions
Recruitment of spat from the natural environment
Anoxic conditions that suddenly occur in lagoons and high predation on Mediterranean longlines
Difficulty of extending rights on maritime public property (DPM) —As the mussel beds are located on DPM, mussel farmers can only lease (not own) their mussel beds, which can lead to problems of DPM management concerning the transfer and extension of mussel culture zones, due to competition (conflicts?) for the use of these areas (fishing, recreation, residential, tourism, etc.) and with respect to transfers when a company goes out of business.
Moderate research support
Blooms of toxic algae ( Dynophysis, etc.) which limit areas that can be used for longline mussel culture in Brittany.